News
EMG hosts annual EMG Asiacom conference, celebrates 10 years of success in China

Bergen op Zoom, November 26, 2014 - EMG, the leading international B2B and industrial communication specialist celebrated its 10 year anniversary at the Grand Millenium hotel in Shanghai, China. The celebrations followed the annual EMG Asiacom partner and client conference, first launched in 2013, which brought together keynote speakers and delegates from clients and the media under the theme of 'Value Based Communications in a Rapidly Changing Market'.

Speaking to the audience at the event, John Gallagher, International Development Director at EMG said. "We first opened our doors for business in September 2004 with just two people on the ground here in Shanghai. Over the past decade we have built a team of over 25 local communicators, added an office in Beijing and established EMG as the leading B2B and industrial communications specialist in China. We are extremely proud of what we have accomplished here."

The 2014 EMG Asiacom conference included guest keynote speakers Phil Allen, one of the chemical industry's foremost experts on value based marketing; Xu Wei, a pioneer in QR Code platforms in China; and Dennis Duan, former editor of China Plastics and Rubber Journal and key industry opinion leader and online blogger.


The Asia-Pacific region is of growing importance for EMG's industrial client base. To ensure the same quality of service in this complex marketplace EMG has established offices in Shanghai, Beijing and Singapore. From these three hubs EMG is able to service clients throughout the Asia-Pacific region. In 2012, EMG formed the regional EMG Asiacom network of agencies to consolidate its long-established relationships with its local country partners in Asia. Specialized in B2B and industrial marketing communications and media relations, it provides an integrated regional approach to deliver local expertise across Asia ensuring optimum simplicity, efficiency and results.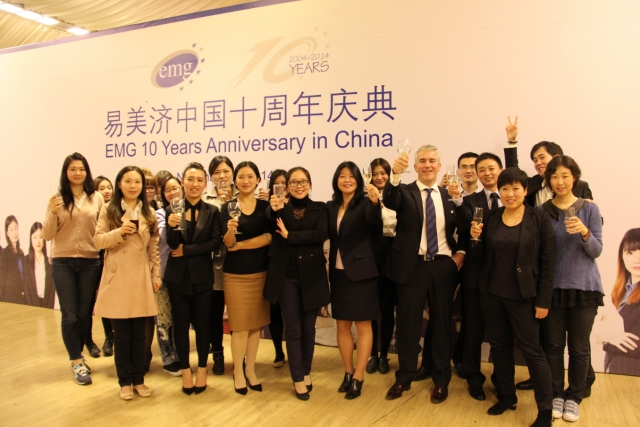 Making the pieces fit!
EMG Asiacom - the regional network uniquely specialised in B2B & Industrial marketing communications and media relations. An integrated regional approach delivering local expertise across Asia in China, India, Japan, South Korea and Australia ensuring optimum simplicity, efficiency and results.


Member Agency Profile
Comma Consulting
New Delhi
India
www.comma.in

Headquartered in New Delhi, Comma Consulting is one of India's most experienced B2B PR firms specializing in corporate communication, brand communications, issues management, crisis communications, public affairs and public relations. The agency has offices in Mumbai and is backed by an extensive pan-India network able to deliver media relations support across the entirety of the sub-continent. Client experience includes Rockwool, Avery Dennison, Clariant, DSM and Alstom.